Scotland – Here we come !
September 23 @ 12:30 PM

-

6:30 PM

AEST

$2.00 – $70.00
Program for the day:
Saturday 23rd September 2023 from 12.30pm – 6.30pm

Discover your Scottish Ancestors
Although Scotland is currently part of Great Britain, its historic records and traditions are very different compared to the rest of the UK, with many institutions remaining independent from England at the time of the Union in 1707. These include the Presbyterian based state church, the legal system, the education system, and considerably more.
In this session, Ayrshire based family historian Chris Paton outlines some of the many records that can help you to explore your Scottish ancestry online. He'll discuss church records, civil registration records, censuses, land records, inheritances processes, and along the way flag up some of Scotland's more interesting historic traditions to help researchers better understand their ancestral heritage.
Originally from Northern Ireland, but with both Scottish and Irish roots, I hold a Postgraduate Diploma in Genealogical Studies from the University of Strathclyde, and today work as a professional genealogist, running my research service from the Scottish town of Stewarton, East Ayrshire.
As well as teaching Scottish based courses for Pharos Teaching and Tutoring Ltd (www.pharostutors.com) I have also tutored for the University of Strathclyde's Genealogical Studies Postgraduate Programme. In addition I am a published author of several genealogy book titles and guides (see https://scotlandsgreateststory.wordpress.com/books) and am a regular contributor to genealogy magazines in the UK and Ireland, such as Who Do You Think You Are?, Family Tree, and Discover Your Ancestors, as well as the ISBGFH's British Connections. I currently edit the monthly APG eNews.
Since October 2012 I have been a regular attendee of the Public Record Office of Northern Ireland (www.nidirect.gov.uk/proni) stakeholder forum. From May 2013-May 2017 I was a director of the Scottish Archive Network Ltd trust (www.scan.org.uk), and in 2021 a member of the APG Board.
I previously worked as a researcher, producer and director for 12 years in factual television for both the BBC (Bristol and Glasgow) and STV, on various documentary series, including Coast, Meet the Ancestors, Secret History, War Walks and Time Flyers.
---
Scottish Records on FindmyPast
Scotland records are found in the 350 record sets listed on FindmyPast. They cover a wide variety of records, transcriptions and indexes. Parish registers are well covered for baptisms, banns and burials; monumental inscription transcriptions can be found; Electoral Rolls, Post Office Directories; Poor Lsw lists; Mental Health Institutions Registers and Admissions; Court and Criminal Database; some school records and apprentice records; some of the pre 1841 census and population lists are all available on FindmyPast for you to view. And we cannot forget the Names of Witches in 1658.
I currently work at Findmypast where I am responsible for all their B2B operations. My principal focus is initiating and developing strategy to maximise our asset value and increase our revenue streams from adjacent markets. This requires wide ranging partnership management. Previously I focused on licensing and led a team that released over 160 million Irish, British and American records and over 2 million pages of Irish historic newspapers at Findmypast. I also negotiated the Catholic Heritage Archive, bringing the records of Catholic church across Ireland, Britain and the USA online.
Brian can also trace his paternal lineage back over 1,000 years in Ireland, and his maternal ancestry through Germany, Scotland and Ulster to the USA and Canada and back to Ireland.
---
Jacobites, the Clearances & emigration from the Highlands.
Few things have shaped the Highlands, and perhaps the image of Scotland, as much as the events of the 1700s and 1800s – the Jacobite Risings, the Highland Clearances and the waves of emigration that followed these traumatic and tumultuous events. These events changed the course of Highland history, have lasting legacies for those who live here, and have resulted in a widespread diaspora of people who claim a connection to this part of the world. Join Lorna to learn more about the Jacobites, the Clearances and emigration from the Highlands.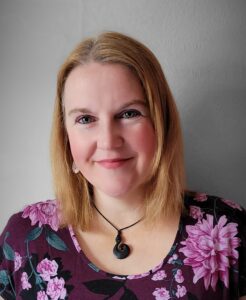 Presenter:
Lorna Steele-McGinn
Lorna Steele-McGinn is the Community Engagement Officer for the Highland Archive Service, which has four archive centres across the Highlands of Scotland. Her work involves connecting a wide range of audiences to the diverse historic collections held in these centres through an extensive engagement programme which includes collaborations with schools, adult learning groups, HMP Inverness, care homes and numerous other organisations and individuals. 'Learn With Lorna', her online series of talks about the Highland Archive Service collections, has, to date, over 130 episodes and over 300k views, and led to a High Life Highland award for innovation.
---
Locating Scottish Burial Records
Finding records of deaths after 1855 in Scotland is relatively straightforward, but how do you find out where they were buried? In this presentation genealogist Emma Maxwell shows you how to discover your ancestor's grave before and after 1855.
Emma Maxwell is a genealogist with over 20 years of experience. Emma works extensively with criminal records held by the National Records of Scotland, piecing together stories for clients so that they can discover more than just names, dates of birth and places. Along with her husband, Graham Maxwell, she has developed the Scottish Indexes website, a collection of indexes to historical records which open up long-hidden secrets and shine the light of day on the past.
---
The inexhaustible Source – Scottish Deeds, the forgotten source for family history.
The Register of Deeds is rarely used as a source of information for those interested in genealogical and family history research, but it contains information from all levels of society, and sometimes the only references to a missing ancestor. This talk will explore the ways in which the Register of Deeds can be used to track down elusive ancestors and flesh out our knowledge of their activities. We will cover deeds in the National Records of Scotland, Sheriff Courts and Burgh Court, and how to access these useful records.
Alistair Henderson of Fordell, B.E., FSA (Scot) is Chief of the Name and Arms of Henderson, and is one of only six Scottish chiefs resident in Australia. His duties as a Chief take him to all parts of Australia, Canada and the U.S.A. as well as Scotland.
A retired electrical engineer, has been chairman of the GSQ Scottish Interest Group for over 25 years, and regularly travels to Scotland for family visits and research.
Interests include industrial archaeology, woodworking, Scottish history, and of course, family history.
---
Discover Historic Maps of Scotland
This talk will provide an introduction to the over 2 million maps in the collection of the National Library of Scotland. Then discuss in more details different categories of historic Scottish maps, their background and the information they can provide for researchers. The Library has digitised over 250,000 historic maps, which can be freely viewed on the Map Images Website. The talk will conclude with a demonstration of this website, with tips on finding, viewing and comparing different historic maps.

Presenter:
Laragh Quinney

speaking Live.
Laragh Quinney is Maps Reading Room Manager for the National Library of Scotland. She oversees the Maps Reading Room and Enquiry Service, and helps to develop and promote the National Library's collection and services. She loves working with the 2 million plus maps in the collection, and helping others discover and explore the map collection.
---
Live Question and Answer with ALL speakers –
Chris Paton; Brian Donovan; Lorna Steele-McGinn; Emma Maxwell; Alistair Henderson and Laragh Quinney.

There will also be the drawing of the raffle and door prizes.
Click here to see and get your copy of the raffle and door prizes.
---
EARLY BIRD Prices: up to 11.30pm 10th Sept 2023 – GSQ/QFHS Members: $50 – Non Members: $60
From 11.30pm 10th Sept 2023 – GSQ/QFHS Members: $60 – Non Members: $70
Tickets will close on Friday 22nd Sept 2023 at 3pm
Link for attendance will be forwarded after 4pm Friday 22 Sept 2023
All sessions will be recorded and available for one month after the event to registered attendees.