The Scarlet Legacy: The British Army's forgotten presence in Moreton Bay
April 22 @ 9:00 AM

-

11:00 AM

AEST

$20.00 – $30.00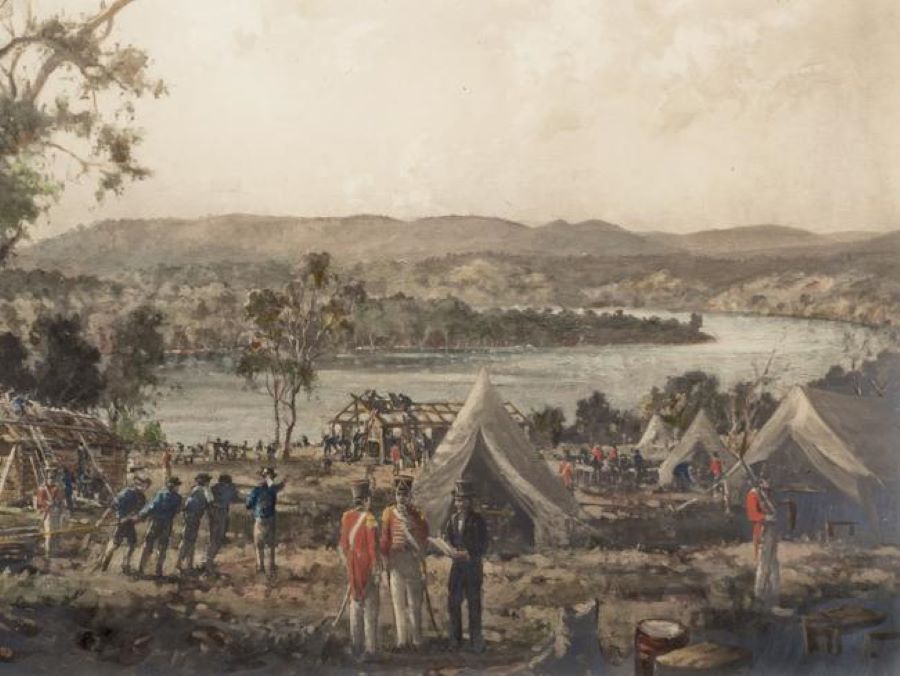 I want to use the talk to provide a precise of work I have done in the past, in conjunction with friend and colleague, Rod Pratt – the main works being as follows: (Co-authored with Rod Pratt),
Brisbane's 1st Battalion 12th (East Suffolk) Regiment Detachments, 1860-66. [Brisbane, Queensland]: Jeff Hopkins-Weise & Rod Pratt, 2005. [ISBN 0958084815];
(Co-authored with Rod Pratt),
Brisbane's 50th (Queen's Own) Regiment Detachments, 1866-69: & the Saint Helena Penal Establishment Military Guard. [Brisbane, Queensland]: Jeff Hopkins-Weise & Rod Pratt, 2004. [ISBN 0958084807]
Note: the above two books have been pdf copied and are also available elsewhere online (Researchgate and also Queensland's Past Online – both books were meant to be digitised back in 2010 for QPO, but have so far been unable to find them), which can be detailed for those participating. (PDF) Brisbane's 1st Battalion 12th (East Suffolk) Regiment Detachments, 1860-66 (researchgate.net); (PDF) Brisbane's 50th (Queen's Own) Regiment Detachments, 1866-69: & the Saint Helena Penal Establishment Military Guard (researchgate.net);Text Queensland | Queensland's Past Online;
(Co-authored with Rod Pratt),
"Queensland's 'Sons of Empire' – veterans of forgotten wars", Queensland History Journal, Vol.24, No.7, (November 2020), pp.642-654;
(Co-authored with Rod Pratt),
"Enrolled Pensioners or 'Fencibles' in Australasia, 1840s-50s: a forgotten Imperial military force", The Volunteers: The Journal of the New Zealand Military Historical Society, Vol.45, No.1, (July 2019), pp.6-35;
(Co-authored with Rod Pratt),
"Redcoats in the 1840s Moreton Bay and New Zealand frontier wars", Vol.26, Issue 1, (June 2019), Queensland Review (Cambridge University Press), pp.32-52;
(Co-authored with Rod Pratt),
"The 50th (Queen's Own) Regiment Military Guard at the St Helena Penal Establishment, Moreton Bay, 1867-69", Journal of the Royal Historical Society of Queensland, Vol.18, N0.3, (August 2002), pp.97-114;
(Co-authored with Rod Pratt),
"The Scarlet Legacy: The British Army's forgotten presence in Moreton Bay, 1860-69", Sabretache: The Journal and Proceedings of the Military Historical Society of Australia, Vol.42, No.2, (June 2001), pp.3-38; & editor's Correction, Vol.42, No.3, (Sept. 2001), p.1.
Note: online version of this seminal article is available via: (PDF) "The Scarlet Legacy: The British Army's forgotten presence in Moreton Bay, 1860-69" (researchgate.net)
Presenter:
Jeff Hopkins-Weise:
Jeff Hopkins-Weise, M.Phil, B.A.(Hons), MPHA. I am a professional historian who has a strong interest and background in Australian, New Zealand and Pacific history and culture. I am a Queenslander who was born, raised, and educated in Brisbane. I have many years of history and heritage experience, including an array of research, heritage assessment and management, and museums curatorial and collection management roles with state and Commonwealth government departments, local councils, museums, and historical societies. I have authored/co-authored some 70 publications, including books, chapters, journal articles, and government and legal reports, but I have an especial interest in the role and service of the British Army in colonial Australia and New Zealand, as well as the Australian contributions to the New Zealand (or Maori) Wars of the 1840s and 1860s. In early 2020 I relocated with my family to Canberra ACT to take up a Senior Policy Officer role with the Heritage Branch, Australian Government Department of Agriculture, Water and the Environment. I then took up a historian opportunity with the Community Engagement Team, Commemorations Branch, Department of Veterans' Affairs in Canberra in early 2022. I am also currently the Deputy Chair of the Professional Historians Association of NSW & ACT, and the Vice President of the national body, Professional Historians Australia.
Sale of these tickets will end on Friday 21st April 2023 at 3pm
Link for the event will be sent out on Friday 21st April after 4pm
This event will be recorded for those that have paid to attend and will be available to view for the next month.