Wednesday night Zoom @ GSQ
September 28 @ 7:00 PM

-

9:00 PM
GSQ would like to invite anyone interested in Genealogical Research to attend the
2nd and 4th Wednesday nights, via Zoom – Free for all and anyone to attend.

If you cannot get to GSQ; or working during the day; unable to attend the other Zoom meetings; and just want a bit of help with your research, then the Wednesday nights might be just what you are looking for.
The 4th Wednesday Evening introduces a Guest Presenter.
Panopticon
Between 1788 and 1868, about 162,000 convicts were transported from Britain and Ireland to various penal colonies in Australia. The Digital Panoptican is a huge database that has gathered much of the available data into one location. The records have been linked to allow easy searching. The Founders & Survivors database from UTAS forms part of the data set. Rhoda will show you how to search the records relating to the lives of 90,000 convicts from the Old Bailey. We will use the site to search individual convict life archives, explore and visualise the data, and learn more about crime and criminal justice in the past.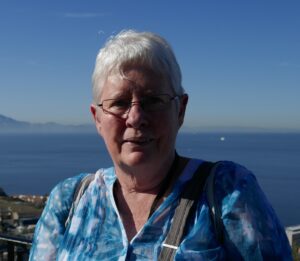 About the Presenter
Rhoda Copeland
Researching family history has occupied Rhoda since the early 80's. Moving with the times, using the Internet and big databases for research was added to the skill kit. DNA testing helped smash the very solid brick walls that were blocking her family tree. Her qualifications include an Associate Degree in Applied Science (with distinction), and general nursing certificate. She has one more subject to complete to obtain the UTAS Diploma of Family History. Those studies have included subjects about our Convict history. She is newly retired. One of her mottos is "Damn it, Do it" – she sees something needs to be done so she gets moving and gets it done. Recently GSQ launched the new GSQFB Facebook group, Rhoda is the admin and hopes this will help provide more connection for our existing members and attract many more. Her other passions include photography, restoring native habitats, and her beloved Shih-tzu. She inherited a love of writing from her father. She can be contacted at Rhoda.copeland@icloud.com
Please send name and details to wedpmzoom@gsq.org.au so that the link can be sent to you. The link will be sent out on the Monday evening.
This presentation will be hosted by Ailsa Corlett
---