Wednesday Night Zoom 2023
September 27 @ 7:00 PM

-

9:00 PM

AEST
GSQ would like to invite anyone interested in Genealogical Research to attend the
2nd and 4th Wednesday nights, via Zoom
If you cannot get to GSQ; or working during the day; unable to attend the other Zoom meetings; and just want a bit of help with your research, then the Wednesday nights might be just what you are looking for.
WalkaboutWithRob
Rob is going to talk to us about some of his Walkabouts around the Brisbane area. Many of his walks featuring Historical places in and around Brisbane are on YouTube and most interesting to learn about the history of some of the old houses, churches, street names etc. Rob is our guest speaker for the evening and we will play some of his YouTube videos and you can ask him questions.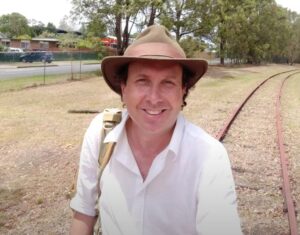 Robert Braiden (Rob)
Rob is an internationally awarded film director with and TV Producer. He has won the Best Film and Best Director awards at the Picture Start Film Festival in New York City, plus the same awards at the Brisbane International Film Festival, amongst other festivals. He was also an Associate Producer on the Great South East TV show on channel 7, and was a Story Coordinator and Associate Producer on Big Brother. He started his WalkaboutWithRob YouTube channel as a way to share his love of walking and travel, and the channel has since become renowned for its history based documentaries featuring places of interest around south-east Queensland. He has also worked as the Heritage Specialist for Logan Cit, filling in for the awesome Dr Hilda Maclean.
The meeting is hosted by Ailsa Corlett, and it is a self help group in which you pose your questions or problems and others within the group offer their ideas, web sites, books and knowledge on where next you might go to find your answers.
The 4th Wednesday of the month is for a Guest Speaker to talk in relation to specific topics.
Come and join us on Zoom.
Please send your name, email and any questions to wedpmzoom@gsq.org.au so that a link can be sent to you.
The link will be sent out on the Monday night.