No matter where you are in the world then this is the Irish seminar for you!
Did you know that around 30% of Australians and Americans have Irish heritage? Have you been told that most Irish records were destroyed in 1922? Well, that isn't the case and this seminar will take you through the available records, particularly those available on line. Join GSQ's annual seminar to discover more about your ancestry and find the records which may uncover those elusive Irish ancestors. GSQ is fortunate to have secured two international experts in Irish records, John Grenham and Chris Paton, so you will not want to miss their presentations and their live Q & A session. Additionally, we have four well known Australian Irish experts who will also be holding Q & A sessions after their presentations. They are Pauleen Cass, Dr Jennifer Harrison, Cathie Sherwood & Helen V. Smith.
GSQ is offering an early bird rate to September 30 so make your booking early as there are limited places.
Book now $50 (GSQ/QFHS Member) and $65 (Non-Member).
From October 1, prices will rise to $60 (GSQ/QFHS Member) and $75 (Non-Member).
There will be raffles drawn on the day with many great prizes on offer.
Download the complete 2 page brochure here
---
GSQ 2020 education program
BOOKSHOP SPECIAL FOR SEPTEMBER
Photo archival storage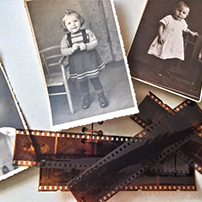 The specials for this month are:
35mm negative pockets - pack of 5 @ $4.00 per pack
Photo pockets 6" x 4" - pack of 5 @ $4.00 per pack
Photo pockets 8" x 6" – pack of 5 @ $4.00 per pack
Photo pockets A3 - pack of 5 @ $8.00 per pack
Photo pockets A4 - pack of 5 @ $4.00 per pack
Photo pockets Foolscap - pack of 5 @ $6.52 per pack
Photo Album – @ $16.00 each
Got to GSQ Shop to buy
---
DONATION DRIVE
Thank you everyone
Our DONATION DRIVE has now closed. Many many thanks to all who made a Donation during the months of July and August. A total of $10,762.00 was raised. An amazing effort!! Thank you one and all!!
---
AGM
Annual General Meeting.
The Genealogical Society of Queensland is holding the Annual General Meeting on the 10 October 2020 @ Mt Gravatt Progress Hall, 1873 Logan Road, Upper Mt Gravatt starting at 10:00 am. The venue has a limit of 43 under the COVID rules and therefore we urge you to book if you are attending. This can keep track of numbers and names. People are urged not to attend if unwell. To book your place at the AGM, Book here
ANNUAL SEMINAR
Exploring Irish Ancestry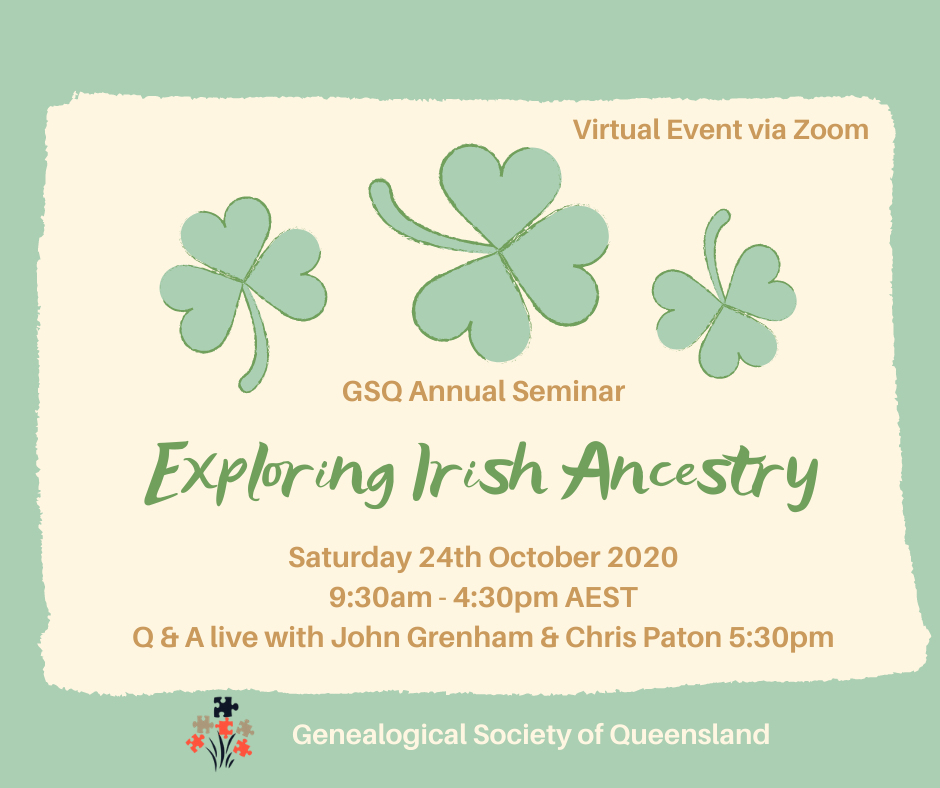 Be part of our Annual Seminar:Exploring our Irish Ancestry on Saturday 24th October between 9:30 am and 4:30 pm followed by a Q & A live session with John Grenham and Chris Paton. This is a virtual Event via Zoom. Download the complete 2 page brochure here Don't miss out on this world class full day seminar to learn about Irish genealogy from renowned Irish specialists. Find out how you can access Irish records online and what is available at various repositories. This will be an exciting day of family history exploration and Q & A opportunities. To book your place at the seminar, Book Here
---
COVID
GSQ COVID-19 revised opening hours
The management of GSQ has decided to continue with the opening of the centre at Wishart for limited hours. The centre will be open from 10:00 AM until 2:00 PM each Tuesday and Thursday, and from 12:00 PM until 4:00 PM on Saturdays. These hours will apply until further notice. There will be 8 people allowed at the computers. Anyone who wants to attend must email Claire at secretary@gsq.org.au to book a session. GSQ will be following the QLD government guidelines for a library. In order to meet the requirements the the number of people is limited and all social distancing and hygiene rules apply.
---
MEMBERSHIP
On line genealogy databases.
One of the benefits of membership of GSQ, is access to all the main online genealogy databases. We have arranged for all members to have access to these databases via this website. There are a few conditions but once you sign on as a member, you can access them here.You will have access to Biographical Database of Australia, The Genealogist, Find my Past and Roots Ireland.